Using an iPhone or an iPad as a camera lucida is definitely non-intuitive.  Most of the time people scratch their head and wonder how I "project" the image onto the paper.  When I explain that I don't, that instead, I draw by looking at my iPad screen, people then assume that I'm drawing a digital picture on my iPad.
Frustration is definitely bad for sales!
So, let's start by showing a before and after drawing that I did for my friend, Jay.  Jay wrote a cool game called "Gameface" that tests your knowledge of famous people.  When you're done reading this, please go and buy his game.  If you do, he might buy me a beer.  http://itunes.apple.com/us/app/gameface/id414480032?mt=8
Here you see the before image and the sketch I made from it.  This whole process took about 30 minutes.
How did I do it?  I'll walk through the steps one at a time for you.  Read on!
First I copied Jay's photo of a famous face to my iPad's camera roll.  I then ran the Camera Lucida application on my iPad and selected the image from my camera roll.  I zoomed in a bit to crop out the logo and used the app's tool box function to try out different image effects. 

First, the original:



Next, a 64 color version: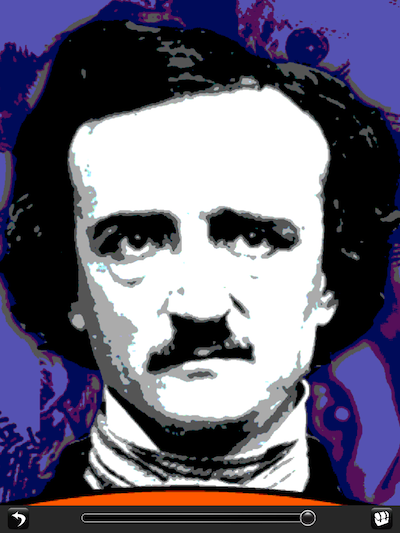 Next, a comic book version: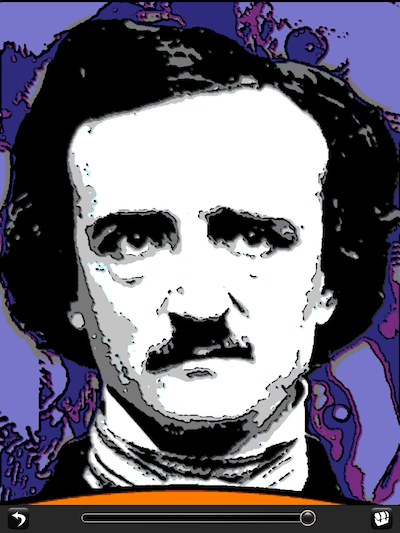 Then, a posterized version using 14 shades of grey:



I settled with the 64 color version.  Even though the image Jay gave me was grey scale, it did a nice job of moving the image into four distinct shades of grey.
Placing your iPad between your drawing surface and your eyes is probably the most difficult part of using Camera Lucida.  But, I don't over-think it.  I just take a tall flower vase and place it on that.  Job done.
For this sketch, I then started to block in the blackest spots with a 6B graphite pencil. Looks like my paper has a bit too much tooth to it… but it's like making beer; don't over-think it.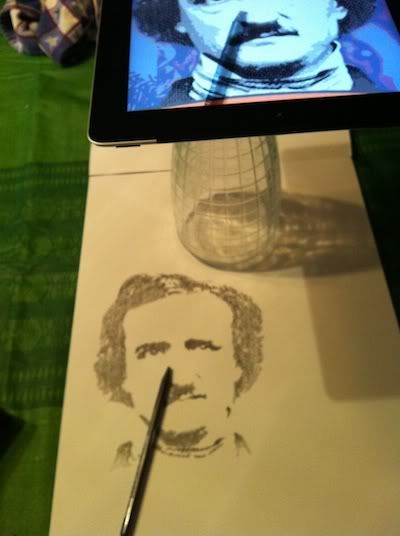 After I had put in the blackest blacks, I then went and shaded in the next shade of grey.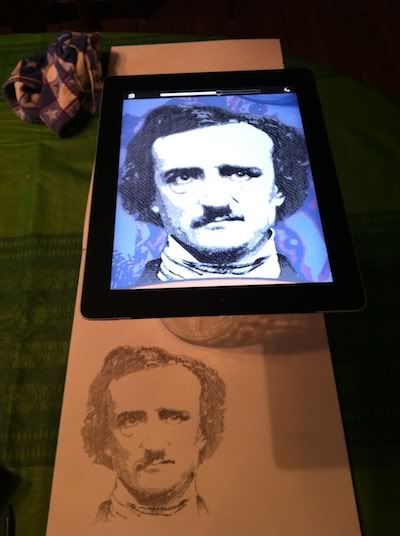 Here's what the drawing looks like with just quickly shading in just two shades of grey: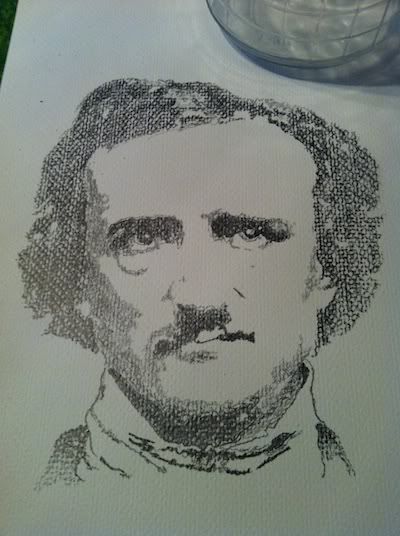 After I had those two shades of grey, the key proportions of the drawing are done. Unless you've been drawing for most of your life or are blessed with a natural ability, getting those proportions just right is insanely tough.  You know when it's wrong, but fixing it is an arduous process!   Once you have that done, you can spend as much or as little fine tuning as you like.  And this is where the controversy is; how much of the drawing is mine, and how much is a copy?  I'll let you make the call on that topic.  If you have an opinion, check out this great blog entry from Artist Daily by Courtney Jordan.  http://www.artistdaily.com/blogs/artistdaily/archive/2011/11/18/big-controversy-should-artists-use-this-tool.aspx

So, I decided to then switch back to the original image and see the finer shading details. I blended and refined a few spots: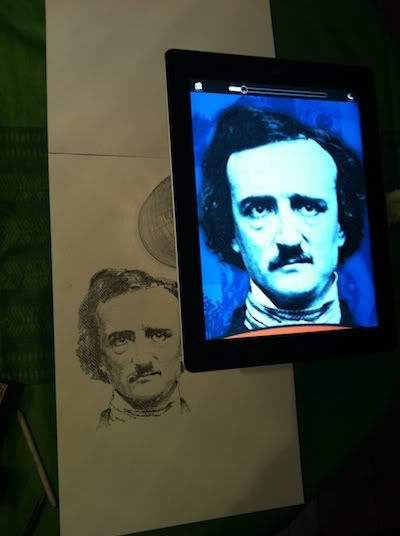 Then my wife came down, saw what I was doing and said, "Wow, that's really cool!" I handed her the phone and had her take this photo of me using the app.  Yes, I was wearing a bathrobe.




It was now a half hour later and I had to get to work. So, I could have spent more time on the hair, etc., but I think this shows you what is possible. Below is a photo of how I left it.
I hope this has helped show you what it's like using Camera Lucida on an iPad!